Page 2 of 4 •

1, 2, 3, 4


LEGAL QUESTIONS SURROUND ELECTION PROCEDURE


Shockwave, Snarfia, Kosmicheskaya Stantsiya Express Concern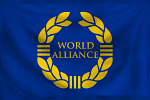 Isauria, Honorias:
Only days after High Queen Meridia Kaltra-Desere Thermala called for clarity and change due to irregularities and confusion in the registration of candidates for the World Alliance Security Council, the Federation of Shockwave has publicly disclosed its concerns on the matter in relation to its own campaign for the presidency of the World Alliance. These concerns center on Shockwave's electoral registration as the candidate—and now elected representative—of Mnemosyne, a continent on which no elected representative resides, while Shockwave shares its actual continent of Erythraea with fellow Security Council member and World Alliance cartographer Kosmicheskaya Stantsiya, which registered and was elected as the Iberian representative. Shockwave is currently campaigning for president under the same Mnemosynean registration that the Federation used to campaign for Security Council membership.
Shockwave's public statements on this matter come in the wake of private discussions with Kosmicheskayan representatives. Specifically, the Federation of Shockwave has asked for additional opinions on whether or not it is, or should be, legal for one continent to contain both a Security Council member and the Security Council president (assuming Shockwave's victory in the election), or to contain two Security Council members of equal stature (assuming that the Democratic Republic of Teddyland Union, the elected representative of Anatolia, wins the presidency). According to the Shockwavean representatives, their own research into World Alliance law found no restriction against nations registering to represent continents on which they did not reside, contrary to assumptions made by the Honorian government and stated by High Queen Meridia during her speech commemorating Honorias's election to the Security Council as representative for Olympia. The Shockwavean representatives cited Honorias's statements as an instigating factor for the Federation's investigation, and made clear that Shockwave and the well-established leadership of the World Alliance took the question of electoral integrity very seriously.
The Federation of Shockwave, which today prompted a public discussion and vote on Security Council electoral procedure with an investigation into World Alliance law and practice.
In light of the Shockwavean statement, representatives from the Federation of Snarfia opened the question of electoral policy to every World Alliance member nation. Snarfia's representatives suggested that candidates for elections be allowed to represent the continent of their own choice, and devised a referendum to allow all member states to weigh in on a similar question: "When two nations are elected from the same continent, should one of them be given the opportunity to represent another continent if that continent is not yet represented?" The Honorian government's response to this question has been ambiguous. In a statement, an Honorian representative at the World Alliance Headquarters said, "We believe that any nation claiming to represent a continent, in the Security Council or elsewhere, should at the very least possess some territory on that continent. At the present time, the Federation of Shockwave holds no possessions in Mnemosyne. Nonetheless, considering the exceptional nature of this election thus far, we believe that the Security Council could easily agree to gift some of the vast unorganized territories in Mnemosyne to the Federation of Shockwave to justify its current registration, should Shockwave win the ongoing election." The representative added, "This is an election of exceptions, after all."
The Federation of Snarfia, which wields executive power in the absence of an elected president, and which has called for the World Alliance as a whole to offer its opinion on the question of continental representation.
However, when High Queen Meridia spoke to the press half an hour later, she presented a more combative image. "We are being asked to alter an ongoing election due to mistakes that were noticed, and pointed out, well before the election began," the High Queen said. "These same mistakes have already affected the results of the Security Council election, and no effort was made to see them corrected even after our government pointed them out on three separate occasions—once in public, once directly to Shockwave, and once directly to Snarfia—while the election was ongoing. At that time, I instructed the Honorian representative at the World Alliance Headquarters to submit Honorias's ballot despite the flaws, under the false impression that it was impossible to alter the election process after it had been started. Now we see that it is indeed possible—and that, therefore, the flaws in the initial Security Council election could also have been addressed as soon as they were pointed out, either with retroactive justification as the Federation of Snarfia suggests for this election or a revised registration list and an announcement that votes cast prior to that point were null and void. Instead, faulty registration led to a single electoral contest that should not have happened, and ignored the two contests that should have occurred.
"If the Federation of Shockwave is concerned about its legal status now that it is competing in a second election, I believe it should be equally concerned about the electoral contest that allowed it to win the first one. If we are to enter the realm of retroactive justification, especially of the kind that the Federation of Snarfia suggests, then we should be willing to provide that kind of alteration for all nations involved in this error-prone Security Council election—including, and most especially, the single nation that lost the election as a result."
High Queen Meridia arriving at the public commemoration of Honorias's election to the Security Council. Credit: T. B. Ellini, Isauria
That nation, the Ravenholm Empire, mistakenly registered to represent the continent of Mnemosyne, prompting an unjustified electoral contest against the Federation of Shockwave. In reality, both nations should have been involved in competition with other nations entirely. The High Queen reminded the Honorian public today that the faulty Security Council elections allowed one more representative onto the Council than was actually justified by the continents they would represent in reality: "And if changes are to be made to our election laws and customs as an election is ongoing, then we must ask ourselves why the Council will accept one more nation than it really should, but may not be allowed to accept two." The High Queen has a vested interest in the well-being of the Ravenholm Empire, to whose royal family she has betrothed her own daughter Oriea Enesa-Meridia, and whose alliance Honorias has desired since the arrival of Ravenholmer Crown Prince Lucifer Blackmore to Isauria several weeks ago.
While electoral laws and guidelines are under scrutiny in the wake of the unfortunate mistakes made at the outset of the Security Council elections, the root cause of those mistakes has hopefully been neutralized. The government of Kosmicheskaya Stantsiya, the World Alliance's official cartographer, has revealed a new continental chart that clearly labels every continent without ambiguity. "This update is focused on clarifying the continents," the accompanying government statement said. "What nations are on each in particular."
Kosmicheskaya Stantsiya, the official cartographer of the World Alliance, which today unveiled a new continental map to prevent further geographic confusion.
The High Queen was quick to applaud the Kosmicheskayan government for its work. "It is difficult to believe that this kind of mistake will ever occur again," she said. However, she added immediately thereafter, "I dare not make any promises."
* * *
IN OTHER NEWS:
Togana: Formal Negotiations Begin Over Olympian Island MilitarizationLatest Results of World Alliance Opinion Poll: Should Nations Choose Their Continental Representation?
New Rhodinia Enters 2017 on a Grim Note!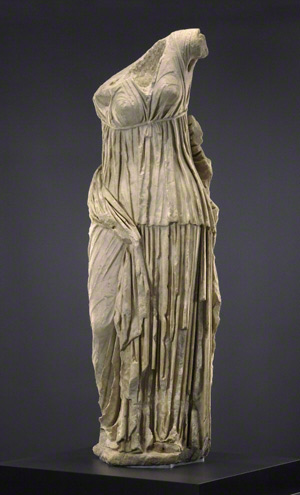 New Rhodinia has returned to the international stage an injured and disillusioned mess.
The Succession Mini-Crisis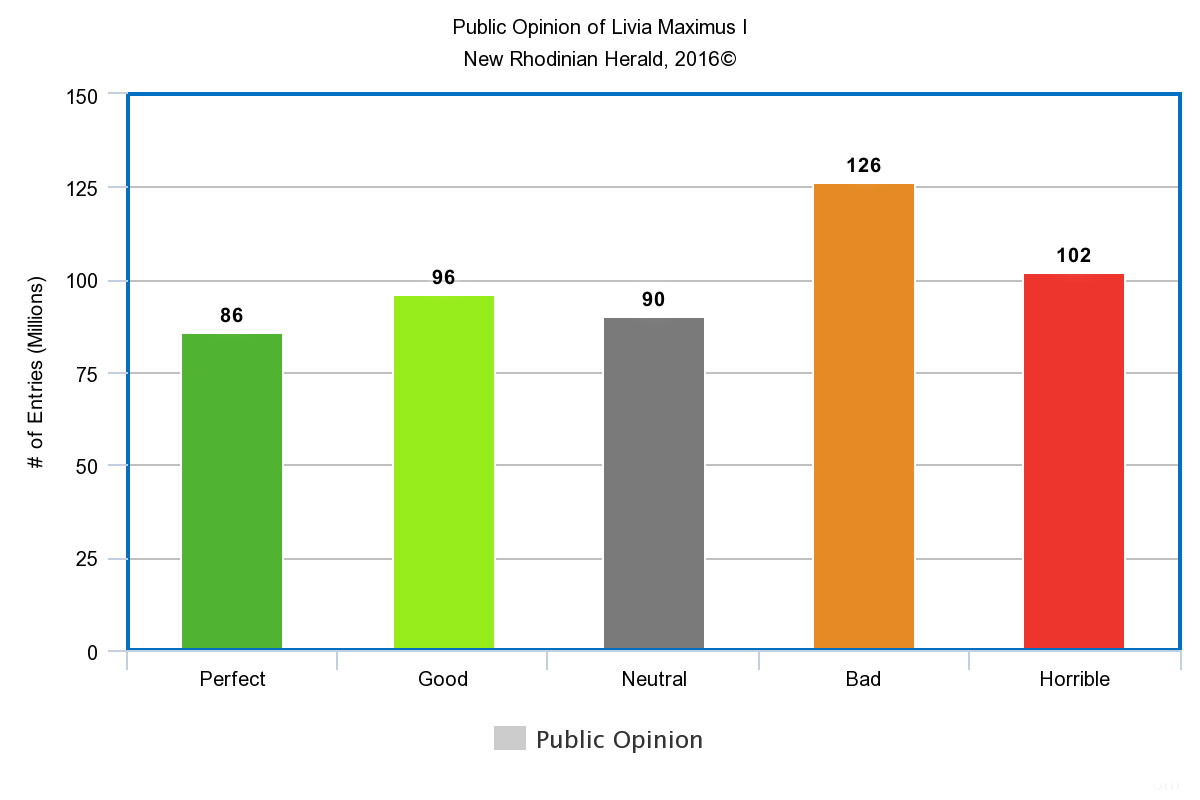 The most shocking and nationally disheartening news of all, though, is the death of the previous ruler, Queen Cornelia Maximus I. After an arduous yet fruitful reign, Cornelia passed away peacefully in her sleep at the age of 94. Her achievements in reinvigorating New Rhodinian culture and society have had a profound impact, but not enough to ease the backlash towards the successor's transition.
Livia Maximus I is now in line to assume control of the throne come January 1, and she hasn't lost her share of naysayers. The product of a barely successful preservation campaign by Junius Maximus I, Livia Maximus I has been a ruthless but educated military commander. Her efforts and subsequent domination of a pretender kingdom hasn't proved to quell distrust among the general populace.
The common consensus among the people is that Livia Maximus I is too informal, disrespectful and inexperienced to assume control. They also cite Livia's illegitimacy, focusing intently on her background as a "test tube baby". Livia Maximus I has made multiple public appearances, however, without major incidence; she even has numerous supporters who point out her experience in more "informal" fields.
Octavia Seneca wrote:"Livia's work as a mercenary in the Old Republic has given her a valid platform to speak her mind. She's spent many years interacting with all walks of life, as this nation has quite proudly showcased; our diverse country has most certainly given her the experience she needs to represent New Rhodinia on the international stage."
New Rhodinia and the World
Despite Livia Maximus I's unpopularity, Livia Maximus I is aiming to maintain New Rhodinia's "Foreign Flowering" policy of providing as much foreign aid and diplomacy as possible.
Livia Maximus I wrote:"The only way New Rhodinia will thrive on the international stage is to show that we're ready, willing and able. We have all this cool stuff and generosity in this nation, so why not share some of our good fortune with the rest of our neighbors?"
New Rhodinia has a rich history of maintaining an admirable diplomatic reputation among foreign nations. Junius Maximus III was the first to emphasize the "Foreign Flowering" policy, bolstering the nation's efforts in diplomacy and foreign aid. In regards to war and conflicts, Livia Maximus I also intends to officially maintain international neutrality. However, she also stated that if circumstances became too large to ignore, New Rhodinia would have its soldiers at the ready to defend its allies ashore, if any should make themselves known.
New Marian Reforms on the Horizon?
Having been New Rhodinia's commander of the armed forces, Livia Maximus I's expertise and interest in combat will have us see the expansion and advancement of New Rhodinia's military. The nation's armed forces have been called by many in the past "a painful excuse of a standing army and the reason there are international bullies". Livia Maximus I intends to change this perception in the coming years.
Livia Maximus I wrote:"Of course we're gonna rebuild the military. Who do you think I am, an airhead? The army is great as it is, but it needs far more fighters to repel any incoming attacks. Are we going to get World War III because of it? Maybe, maybe not. Chances are slim for now, I'd say."
Needless to say, this is another hot topic of Livia Maximus I's detractors. The uncertainty of New Rhodinia's security and military strength has grown on many and they are anxious to have an actual defense.
Last edited by New Rhodinia on Mon Jan 02, 2017 4:25 pm; edited 1 time in total



Posts

: 18


Join date

: 2016-12-25


Age

: 23



ATLANTIS UNDER SIEGE


Threatened Toganan Advance Coupled with Simultaneous Snarfian Intervention
Isauria, Honorias:
On the same day that the Crowns of Honorias and the Gaivarvara received the first official news from a Eurussian territory in three months, prompting military action on behalf of the Duchy of Columbia, a sudden outbreak in conflicts and military interventions throughout the world has caused shock in Honorian political circles. News sources from Vitami, Snarfia, and Togana all report nearly simultaneous military actions to silence the threat of border raids, or to secure refugees in the wake of the Empire of Eurussia's collapse. Royal Household officials have already stated that this was the very scenario that Honorias had been preparing to withstand.
"Her Majesty the High Queen entered into negotiations in Asia and other eastern territories specifically to build up a political bloc capable of withstanding the buffeting of the political winds in the wake of Eurussia's political vacuum," the Royal Household spokeswoman said to the
Word
. "She and the entire Honorian political spectrum are somewhat pleased with the progress that they have made over the last couple of months, but no one is certain that the collection of friends that Honorias has made in that time will be able to withstand this sudden violence around the world. We still aren't sure what triggered these simultaneous conflicts, regardless of the fact that we are evidently involved in them, as per the Lord Commander's instructions to the Honorian military earlier today. We will investigate the timing of these violent actions as much as possible, and remain on the lookout for additional conflicts as time goes on."
The Imperial Republic of Vitami, whose armed forces are reportedly intent on capturing strategic trade routes over land and sea in northern Asia, clearly seen to the east and west of Vitami's current borders. Credit: Cartographic Society of Kosmicheskaya Stantsiya
The inclusion of an Asian nation in this list of unexpected conflict zones, specifically a nation whose representatives have met with High Queen Meridia on the subject of peace in Eurussia's absence, lends further weight to the notion that these simultaneous military actions are the result either of coincidental circumstance or a collaborative effort on the part of the supernatural. More sarcastic wits among the Honorian public, and even among a few commanders speaking from stations in the Gaivarvara, seemed inclined to support the latter theory. Clanswomen in Isauria, on the other hand, maintained a more rational outlook. "Circumstances change," said Diomada Enesa-Onara Usella, matriarch of her clan. "And there come times in history when opportunities become obvious to everyone in the world. It may be that the World Alliance has entered such a period today."
These circumstances of 'opportunity' have most heavily impacted the continent of Atlantis. The Empire of Eurussia once dominated this continent, and as a result, its absence has been felt there most keenly. As with the Duchy of Columbia, the absence of central authority in Eurussian territory has allowed violence to spread throughout the former Empire. According to reports from Snarfia, the southwestern peninsula of Atlantis, formerly a part of Eurussia, has become home to a large number of refugees, primarily of Snarfian extraction, that have fled the violence in the continent's interior. The Snarfian Federation acted soon after receiving these reports by ordering the military occupation, and possible annexation, of these territories to protect Snarfian lives.
Southern Atlantis, a new battleground among World Alliance member nations. The southwestern peninsula, once a Eurussian possession, is currently being occupied by Snarfian fast-reaction teams after reports that Snarfian refugees from the Eurussian Empire's dissolution have congregated in the area. To the east, Togana has moved against a collection of city-states implicated in border raids against the Republic. Credit: Cartographic Society of Kosmicheskaya Stantsiya
Simultaneously, the Republic of Togana, which resides just across the Kin Jidai Sea from this peninsula, has begun its long-awaited push against neighboring threats. As the government of Togana has repeatedly discussed with the Crowns of Honorias, Toganan ambitions revolve around controlling neighboring areas of Atlantis that have posed threats to Toganan security in the past, and whose chaotic reaction to Eurussia's political disappearance has further destabilized Togana's borders. As a result, Togana's government today reported that its military has moved to acquire territory along its eastern borders, facing against a collection of city-states responsible for terroristic behavior against the Toganan state. The Royal Household, and the
Word
, have earlier reported that the Republic of Togana intended to move against the destabilized nation of FROG, but it is possible that the Toganan government chose to avoid making war against a population that had been warned to expect a foreign invasion.
While Togana's push against its neighbors had long been expected in Honorias, it remains a contentious decision within the Royal Household, to the point that High Queen Meridia personally spoke to the press on the matter later in the afternoon. "The Republic of Togana has enemies close to home," she said in response to reporters' questions on the continuing discussions between Togana and Honorias. "It does require military protection, and on occasion the protection of the homeland will require a preemptive strike against known enemies and a permanent occupation of their bases. In the cause of defending the Toganan people from foreign aggression, I wish President Waltz the best. However, as my government has said via telegram many times and as my representative at the Olympia Neutral Territory has no doubt reiterated by now, Togana's dangers not only appear confined to Atlantis, but they appear numerous enough that Togana would be foolish to spread its fighting force any thinner than absolutely necessary. There is no good reason that Togana has yet put forward to explain why it requires a military presence on Olympian shores, especially when it has plenty of better uses for every one of its soldiers.
"As a result, we are not convinced that Togana believes that there is any serious threat to be found in the Olympian region, and we are furthermore fairly certain that the Toganan military build-up on our trade routes is for entirely aggressive purposes. The Honorian public, and for that matter the Toganan public too, can be sure that we will defend the Crownlands against any aggressor, and we will use every avenue, both militarily and diplomatically, to defend the continent of Olympia from foreign aggression or interference, as is our nation's duty as the Olympian representative to the Security Council."
The High Queen added, "To that end, I have authorized that Honorian forces, specifically Gaivarvaran Levies Enesa through Petna, acquire the remainder of the Olympian Basin by force of arms, and remand whatever leaders of men they might find in the lands between the Crownlands and the sea to Isauria, where I will personally determine if they are fit to rule these places under Honorian supervision or if these lands, too, will become part of the Second Crown."
The Crowns of Honorias and the Gaivarvara, the islands in Toganan possession, and the Median Desert. High Queen Meridia has already pledged to aid the Duchy of Columbia, positioned southeast of the Median Desert, against raiding parties that have plagued Honorias for decades, and will now send Royal Guard forces southward as well to entirely secure the Olympian Basin for Honorias. Credit: Cartographic Society of Kosmicheskaya Stantsiya
When asked if this new deployment would affect Honorias's response to the Duchy of Columbia's request for assistance, High Queen Meridia said, "Not at all. I have spoken at length with the Council of High Commanders to determine what can and should be spared for the Duchy's use, and I have been assured that neither Eurussian nobles nor their bureaucrat cousins will have much use for conscripts. The Gaivarvarans will be free to do as we require."
And if Togana should attack those conscripts not fit for Eurussian use?
"Then the matter in Atlantis will become very interesting indeed."
* * *
IN OTHER NEWS:
Honorian Lawyers Calling for Clarification—Again—as Security Council Session BeginsHistory of Temple Kalomora: "Navel of the World"
SHOCKWAVEAN AMBASSADOR ARRIVES IN HONORIAS


High Queen Meridia Greets Representative of World Alliance President
Isauria, Honorias:
Only days after being confirmed as President of the World Alliance, an ambassador from the Federation of Shockwave has arrived in Isauria to meet with High Queen Meridia Kaltra-Desere Thermala and the government of Honorias and the Gaivarvara. Security Council Representative Telimous Andonne was sent to meet with the High Queen at her request, in a new diplomatic push to solidify Honorias's relationship with its new partners in the Security Council. The Royal Household has confirmed that several diplomatic visits are being scheduled, but Representative Andonne's arrival will certainly stand out among them.
Representative Telimous Andonne, who will represent Emperor Morikeli Shen, the people of Shockwave, and the continent of Erythraea in the World Alliance Security Council. Credit: Shockwavean Public Records
"It is obviously an honor to host a representative of the President of the World Alliance," the High Queen told the media prior to her closed-door meeting with Representative Andonne. "It is even more important, however, to realize that the Federation of Shockwave has yet to establish formal ties with any nation as of yet. Honorian friendship with Shockwave will be an opportunity for both parties, and I firmly believe that neither Honorias nor Shockwave will have reason to dismiss the idea once intervening matters fall into place."
Those 'matters' largely center around the Honorian-Toganan quarrel that has begun to destabilize the Olympian Basin. Togana's rule over islands to the immediate south of the Olympian Basin prompted Honorias to suggest a diplomatic discussion over the political future of southern Olympia several weeks ago, but such a discussion has only begun to take place in the last few days, while in meantime long-distance communications between the two nations have revealed plans for a military build-up on the islands that could directly threaten Honorian trade and travel. Tensions also rose in the last couple of days, when military forces from both Honorias and Togana, as well as Snarfia, Vitami, later New Rhodinia, and now also the Federation of Shockwave, almost simultaneously moved to acquire land outside of their set borders for a number of varied reasons. Honorian acquisitions include the remainder of the Olympian Basin and Channel, in order to ward off any possible threat Togana might pose to Honorias proper. Togana, meanwhile, has begun a war on the borders of the homeland in Atlantis, in accordance with plans released to the Honorian government as a reassurance that Togana had no ambitions to claim additional Olympian territory.
Toganan soldiers on the march. The Republic of Togana is currently moving against city-states on its eastern border to quell terrorist activity. Credit: Toganan Public Records
The Royal Household today acknowledged that the Federation of Shockwave is extremely concerned by a conflict of interest between two Security Council members, especially so soon after their election to high office. "Representative Andonne made it clear that the Federation could not in good conscience take sides in such a dispute," the Royal Household spokeswoman said in a statement soon after the meeting concluded. "Furthermore, any indication that Honorias's dispute with Togana could come to blows would result in enforced arbitration at the discretion of the World Alliance President. Her Majesty the High Queen has acknowledged Shockwave's authority on this matter, and furthermore welcomes the additional security provided by these alternative avenues for a diplomatic resolution of this issue."
High Queen Meridia just prior to welcoming Representative Andonne to Isauria. The High Queen wishes to maintain the friendship of the Federation of Shockwave, regardless of disputes outside of that relationship. Credit: T. B. Ellini, Isauria
While the shadow of the Olympian Basin was never far away, the Royal Household also acknowledged that High Queen Meridia and Representative Andonne discussed several other matters in the course of their meeting. "Shockwave and Honorias share several interests in terms of economic exchanges, the free movement of people between our two nations, and tourism," the Royal Household spokeswoman reported. "The Honorian government is interested in immigration from abroad in certain areas of the Crownlands, and is eager to enter into this kind of agreement with the Federation of Shockwave. The Federation also views Honorias as a site of possible interest in scientific investigations, and would also like to determine the historical and cultural landmarks of our nation for official records, as part of Shockwave's duties to the official World Alliance Registries."
The spokeswoman concluded, "No official relationship between Honorias and Shockwave can develop for as long as our conflict with Togana is ongoing. But we are well on our way to establishing such a relationship in the future. In the meantime, an informal relationship is not only possible, but desirable, and the government of Honorias will do its utmost to foster that relationship until the circumstances are right to establish an official friendship."
* * *
IN OTHER NEWS:
Duchy of Columbia "In Good Hands" with Honorian AidShockwavean News Sources Report Distant Conquest
NEW RHODINIAN MONARCH ARRIVES IN ISAURIA


Queen Livia Maximus I Greets High Queen Meridia with Glowing Rock and Scientist in Tow
Isauria, Honorias:
The Crowns of Honorias and the Gaivarvara have once again lured a royal personage to visit our increasingly-busy nation from abroad. With great pomp and fanfare, High Queen Meridia Kaltra-Desere Thermala, accompanied by Lord Commander Tolireo and their daughter Oriea Enesa-Meridia, joyously welcomed Queen Livia Maximus I of the Constitutional Monarchy of New Rhodinia to Isauria earlier this morning. The visiting monarch brought her own companions from New Rhodinia: Octavia Seneca, a well-regarded expert on scientific matters, and the latest New Rhodinian experiment in military technology.
Queen Livia Maximus I of New Rhodinia, who arrived in Isauria with a scientist and a pet rock, a pet scientist and a caveman's tool, or some combination of the aforementioned. Credit: New Rhodinian Public Records
The promise of this mystery material was enough to bring several representatives of the Council of High Commanders, not including Lord Commander Tolireo himself, to accompany the High Queen as she discussed the future of Honorian-Rhodinian relations with Queen Livia. Eventually the party retreated behind closed doors to conduct the pertinent demonstrations in a controlled and, of course, secret atmosphere. If the Royal Household's statement later in the day was any indication, the results were more than satisfactory.
"Arcestium is the new gold," the Royal Household spokeswoman told the media. "It is the new uranium. New Rhodinia has recently expanded its borders solely to acquire more of this material, and to test its properties outside of all acceptable safety limits for more populated areas. Her Majesty the High Queen was kind enough to point out to Her Highness Queen Livia and Ms. Octavia Seneca that just such an unpopulated territory resides on Honorias's eastern borders. The Median Desert is, by several different measures, the perfect test site for Arcestium and whatever tools can be fashioned to make use of its properties."
An artist's rendition of the peaceful Median Desert. As operations to defend the Duchy of Columbia begin in earnest, government officials begin to wonder if New Rhodinia's experimental researchers might make such a dream into reality. Credit: R. B. Dits, Limriksiti
While scientifically this meeting was startlingly impressive, especially as it eventually included several education experts from the High Academy and seven High Commanders including Lord Commander Tolireo, politically it left a great deal to be desired, according to observers familiar with High Queen Meridia's negotiations with other foreign leaders and representatives. "This is the first time we've seen the High Queen get too distracted to actually get something signed," noted one Royal Household insider who did not want to be named. "Arcestium might be 'the new uranium,' as if that weren't frightening enough, but it might also be the undoing of any politician who might otherwise want to bother Queen Livia. As far as I could tell, the two monarchs could barely understand one another's point of view throughout the entire meeting, but the High Queen was too distracted by the glowing rock to notice it.
"There will almost certainly be additional talks between Honorias and New Rhodinia before any serious progress can be made," the unnamed source added. "High Queen Meridia will almost certainly realize how little was accomplished today as soon as someone takes the shiny bauble away… and she will no doubt insist on purchasing the shiny bauble itself as soon as the technology is ready to test or utilize. Either way, the High Queen will want to speak with New Rhodinia again, and hopefully—for Honorian security, if not for the nation's peace of mind or the High Queen's sanity—New Rhodinia will see Honorias as a suitable partner for trade or military cooperation, or both."
* * *
IN OTHER NEWS:
Gold Prospectors Change Careers, Evacuate Median DesertArcestium Prospectors Arrive in New Rhodinia Covered in Sand
CAROLINIAN PRESIDENT VISITS ISAURIA


High Queen Meridia and President McKnight Discuss Trade and Security Council Partnership
Isauria, Honorias:
As part of the Royal Household's latest attempt to build partnerships throughout the World Alliance, specifically within the Security Council of which Honorias is now a part, High Queen Meridia Kaltra-Desere Thermala and Lord Commander Tolireo welcomed President McKnight of the Federation of Carolina to Isauria. The President, accompanied by his security staff, joined the High Queen and Lord Commander on a short tour of the Honorian capital before entering a closed-door discussion on the possibility of trade. The Royal Household's customary post-discussion statement suggested that this was mainly treated as a holiday for President McKnight, as very little of substance was determined.
"The Federation of Carolina is a cautious state whose priorities do not necessarily align with Honorias's own," the Royal Household spokeswoman told the media. "While neither of our nations is prepared to join together in a declaration of formal friendship or make any particular deals pertaining to the government or military, we are nonetheless pleased for the opportunity to make the acquaintance of another Asian state, and further develop our ties with that continent."
The statement also said that High Queen Meridia and President McKnight agreed in principle to general economic ties and a relationship in trade.
* * *
HONORIAS AUTHORS FIRST SECURITY COUNCIL PROPOSAL OF SESSION


Security Council Debates Whether or Not to Preserve Moscow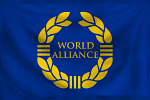 Moscow, Former Eurussia:
Only days after making contact with the Duchy of Columbia, a former possession of the late Empire of Eurussia, the Crowns of Honorias and the Gaivarvara have made the security of another Eurussian possession their top priority in the Security Council: namely, Moscow, the Empire's former capital and the host city of the World Alliance Headquarters.
The World Alliance Headquarters in Moscow, where the Security Council continues to meet despite chaos in other territories formerly held by Eurussia and the total silence of the Eurussian government, formerly housed in the nearby Kremlin. Credit: World Alliance Headquarters Public Records
According to the Honorian proposal, "Create the Moscow WA Neutral Territory," the city of Moscow would be set aside as a neutral territory under international—that is to say, Security Council—jurisdiction, in order to preserve the city from any potential chaos from the rest of Eurussia or the threat of international aggression aimed at capturing or destroying this last symbol of the Eurussian Empire and the current home of the international government. "As a city rich in history, both for the late Empire and for the World Alliance as a whole, Moscow should be preserved as an international monument to the World Alliance's past," the proposal reads. "As the location of the World Alliance Headquarters and, as such, one of the few areas of Eurussia still open to international observation and visitation, Moscow is essentially governed by the World Alliance Security Council in the absence of Eurussian authority, and it is only right that this informal situation be codified by active law. Most importantly of all, as both a still-active political hub and the last true remnant of the Eurussian Empire, Moscow is under threat from those that would wish to leverage the World Alliance Headquarters and the cultural heritage of the Eurussian Empire for their own ends."
The Honorian government is in the interesting position of using its own example in a negative light, reminding fellow Security Council members that World Alliance members throughout the world are interested in the fate of Eurussian territories, most especially the former capital of the Empire. "Our government has made this proposal in part because the competition to be recognized as the cultural or political successor of such a great state will almost certainly be immense, and very possibly violent," Security Council Representative Dovali Trila-Nulai Senrida explained in session today. "Moscow would be the greatest prize for those nations competing for Eurussia's legacy, and giving them any hope of attaining it by fair means or foul would only encourage the destruction of this city." Already both Honorias and the Federation of Snarfia, also a member of the Security Council, have sent troops to two such territories, in both cases in order to defend those living in those territories from dangers caused by the lack of Eurussia's central authority.
Security Council members have been largely supportive of this measure. The Federation of Snarfia and the Holy Empire of Anx Minor sounded the only notes of caution, suggesting that a stateless territory could be used as a tax haven for international businesses or other entities that could take advantage of the population living in the area. Representative Trila-Nulai has expressed her hope that the examples set by other World Alliance Neutral Territories throughout the world, governed by the Security Council in lieu of any other government, can mitigate those concerns.
* * *
IN OTHER NEWS:
Togana Announces New Military Budget, Continues to Ignore Honorian Security ConcernsOlympian Channel Fully Under Honorian Control; High Queen to Organize New Territories as Needed
TOGANA REFUSES TO NEGOTIATE; TOGANAN FLEET MOVING EASTWARD


Honorians Prepare for Battle as High Queen Calls for Security Council Mediation
Isauria, Honorias:
The Royal Household has finally admitted defeat in its attempts to diplomatically resolve its differences in the Republic of Togana. Speaking today from the Nerai Palace, High Queen Meridia Kaltra-Desere Thermala personally informed the Honorian public that the Republic was incapable of offering a reasonable compromise that would assure the safety and security of Honorian territory and trade. "The Republic of Togana has failed to negotiate in good faith," the High Queen said bluntly. "Its representatives provided obviously-false reasoning for its intended actions, and when we suggested measures by which the Republic could fulfill those intentions while still guaranteeing Honorian security, it simply refused. My negotiators have therefore removed themselves from the discussion."
Negotiator Herina Dya-Alema Thermala, accompanied by High Commander Ermand Dul-Remanada and various interpreters, met two high-level representatives of the Toganan government to discuss the reasoning behind Togana's stated intention to arm the Huperzian Islands, which reside along Honorian trade routes and, with the latest actions intended to head the Toganans off in southern Olympia, now lie directly off the coast of Honorian territory. According to the Royal Household's report on the negotiations, Togana's stated reasoning, which the Republic had held in secrecy for nearly three weeks while Honorias frantically attempted to get their representatives to talk, turned out to be a blatantly-obvious lie. "Togana claimed that they were protecting these waters against pirates," High Queen Meridia explained to the press, "who were supposedly operating along the—and here I quote the Toganans themselves—'second-largest shipping lane in the world.' Such an operation would have come under international scrutiny months ago if true, and would certainly not have escaped Honorian notice, since the waters most directly affected comprise the only sea access our nation has to the outside world, and would have been just as threatening to our national security as Togana is now proving itself to be. This was an obvious falsehood and my negotiators told the Toganans that we wouldn't be fooled by it."
Nonetheless, the High Queen said, she had authorized the negotiating team led by Dya-Alema to accept the Toganan military presence if Honorias had solid assurances that such a presence could not be used against this nation. In the case of piracy against ships of all nations, the likely solution was obvious. "The Toganans claimed that their military build-up was the result of an international matter," the High Queen confirmed. "My ambassadors therefore proposed to stand aside, as long as the international community was fully involved in the project and fully prepared to punish Togana if it proved deceitful in this matter. Given the nature of their falsehood, it is not a surprise that Togana refused to do more than 'invite' some international vessels, at their own discretion, to accompany Togana's augmented forces. We made it clear that we intended for an international matter to be dealt with by an international force, and would accept nothing else if Togana insisted on bringing its own forces to bear on our trade routes. Togana's emissaries refused, and claimed that continuing to insist on that point would end the discussion and cause Togana to send their forces with no compromise at all. Given that the Republic's negotiators had just attempted to lie their way through the negotiations, our negotiators refused to accept anything less than international guarantees of Togana's honesty, and as Togana refused to involve the international community beyond the aforementioned lip-service, it was clear that its ambassadors could not be reasoned with. As such, my representatives left the meeting and reported its results to Isauria."
The next step in the process is not yet clear. During the visit of Shockwavean Security Council Representative Telimous Andonne, the Shockwavean government made clear that it would not abide armed conflict between World Alliance nations, and especially between two members of the Security Council. With that in mind, High Queen Meridia indicated that she intended to seek arbitration from higher authorities as soon as possible. "We are not interested in resorting to force before exhausting every possible diplomatic avenue," she said. "We were patient enough to petition Togana for a face-to-face negotiation over the course of weeks—despite the constant delays caused by the Republic's own civil discord, a matter that has not stopped it from its aggressive activities elsewhere—and we will not consider this the end as well as the beginning of our diplomatic endeavors."
Regardless of the High Queen's intentions, however, matters may have moved more quickly than diplomacy can cope. Toganan media reported only hours ago that the Republic's Second Fleet had left its home port for the Gibraltar Sea, where it was apparently ordered to remain. High Queen Meridia has taken no chances. "In preparation for possible conflict over these islands, we have already begun moving medium-range missile batteries to the southern shores of Olympia," she reported. "We have furthermore moved our blue-water fleet to observe the islands from a distance, and report on any attempt to land there. While the Gibraltar Sea is still some distance from the Huperzian Islands, this is nothing on which we will take a chance."
The High Queen said in conclusion, "Togana's demands for national security actively threaten the security of another nation. The subject of this 'national security concern' has survived for a generation without any special attention from the Toganan government. And now Togana's claims of international piracy are met with Togana's refusal to gather an international force to observe the area for whatever pirates might be out there, and whatever treachery Togana really means to do here. I tell the Toganan government now: If it attempts to arm those islands before the international community can arbitrate, there will not long
be
islands left to arm."
* * *
IN OTHER NEWS:
Duke Michael of Columbia: "Duchy Will Support Its Ally" in Toganan CrisisSecurity Council: Moscow Neutral Territory Proposal Well-Received
TOGANA ORDERS IMMEDIATE REINFORCEMENT; HONORIAS REPONDS


War Declared as Court Case Begins
Isauria, Honorias:
Matters in southern Olympia have finally come to a head, High Queen Meridia Kaltra-Desere Thermala announced only hours after revealing that negotiations between Togana and Honorias had broken down. Following the High Queen's ultimatum regarding Togana's intended reinforcement of the Huperzian Islands, which the Royal Household reinforced with a private message to the Toganan government stating the same, President Alvin Waltz signed an order to reinforce the islands without delay. According to the High Queen, President Waltz then personally messaged the Honorian government to claim that Togana was acting in self-defense against Honorian aggression.
"I have already stated, to him and to the public, what Honorias would do if Togana dared to threaten it in this manner," High Queen Meridia said. "We are doing just that now."
'That' in this case refers to a medium-range bombardment from temporary emplacements brought to the southern banks of the Olympian Channel as part of Honorias's recent acquisition of those territories. The Council of High Commanders has confirmed that land-based missiles are currently landing on all Toganan military installations on the Huperzian Islands, in an attempt to make them unusable for any reinforcements on the way from Togana. With the Honorian navy moving to guard the approaches to the Huperzian Sea, the Honorian government will have at least some warning before the Toganan forces arrive, by which time additional forces—including those of Honorias's new ally, the Duchy of Columbia—should be in place to prevent any serious landing attempts on Olympian soil.
"We have neither a claim nor a desire to claim the Huperzian Islands," High Queen Meridia clarified. "We do not intend to occupy them. We will not move to do so until or unless matters change well beyond our control. But we can and we will eliminate any viable threat to Honorias that arises from them. And that is what we are doing today."
This action comes as the Federation of Shockwave, at the Honorian government's request, launches a case to determine if and where there may be fault in the escalating matter. Representative Telimous Andonne said in his initial statement, "It is the official opinion of my team that Togana and Honorias cease
any
military actions until this case can be considered resolved. This is to ensure that current evidence is looked at avoiding the piling on of new and potentially incriminating evidence." By their respective actions, both nations risk the censure of the World Alliance President.
High Queen Meridia acknowledged the risk. "We are not unaware that the Crowns have disobeyed the firm request of the presiding judge of this case," she said. "Nor are we unaware that the Federation's government is unlikely to be impressed by the simple argument that we are defending ourselves from aggressive movements by our opponent. Nonetheless, that is the case, we have the documentation to prove it, and we will not abide—as my emissaries and I have repeated so often through this entire process—any threat to Honorias's national security and the security of its trade. I remind the world that this was the refrain by which Togana claimed to places its arms on our sea lanes, spouting obvious lies to our ambassadors as its spurious justification. It is for us to remind Togana, therefore, that national security is
every
nation's right, not just its own."
For now, Honorians are asked to await the international reaction to these unprecedented actions, whatever they may be.
* * *
IN OTHER NEWS:
Lord Commander Tolireo Leads Eslanian Forces Southward to Join Gaivarvaran LeviesMedian Desert Pacification Put on Hold; Southern Olympian Territories Reinforced
OOC:

I'm unsure about the rules of war in the World Alliance, but I have gathered that posting non-stop articles without a response from my opponent would be censured. As this article states, though, this is a reaction to a telegram I received rather than a preemptive attack against an unaware enemy, and I can forward the telegram to any officials who need to see it to verify that.
Togana at War
The president has ordered the immediate bombardment of Honorias Airbases and Naval facilities in the region. A few hour ago we received word that they have sent a force to defeat the current Force stationed on the island. Word has been given to the current force to shoot down any aircraft that enter the region. As well as other forces to scatter to predestined spots to prevent casualties.
We have received word that the
T.M.S. Togana
(Togana Class Carrier) has been sent to reinforce the current fleet of naval assets in route to the region. The
Togana
will be escorted by the bulk of the fleet that is not currently in the region. The Kraken (Kraken class destroyer) has been ordered to assist before its final commissioning due for next month. The Kraken is said to be the most up to date Anti-Air Destroyer to date. Other Anti-Air assets are to be moved into the area to further protect the islands.
The president has ordered that 4 submarines are to be sent to the region with the orders to sink any Honorias naval vessel. There is also word that a Marine Task force will be sent to the region for a counter-attack as well. The makeup of the fleet is, as now, unknown.
President Makes Speech
"We have received word that Honorias has launched a unprovoked attack on our regional military faculties in the Huperzia Islands. I recently got a telegram from their nation saying that any forces would "fry" and that they would respond to any threat. I ordered a reinforcement fleet to be sent there as a means to protect the Islands. Unfortunately the enemy has attack our current force before we could bring any forces to bear. We will respond in kind. Casualties are unknown at this time. I have since ordered the entire Military to combat status and sent forces to the region."
"Our 2nd Fleet is sailing as we speak and will be on station in a few days. They will support any forces in the region. I have ordered our rules of engagement to our forces. If Honorias does not stop action within 6 hours we will open the combat to its nation, not just our islands. Whether it is in Togana waters or not. If Honorias does not cease any military action in the region we will commence major bombings of any military targets or even civilian targets of Military potential in is nation. This has the potential to turn into a full war."
"I have also ordered that any Honorias vessels that are found at sea to be stopped and searched. Any military equipment will be disposed. Any vessels or groups in Togana have been seized by the Military and Police already and be be dealt with. Any Honorias civilians in country are being detained and escorted back to Augusta International Airport while they will be processed out of country. They will not be harmed and will be given all essentials while in wait."
"Make no mistake. Honorias claimed they do not want our military at their throats. It is too late, unless you stop all action immediately you will feel the full power of our boots stepping on it."
In Other News
-3 Honorias Vessels Seized in Togana
-Togana Bombers Sean Leaving Bases
-Honorias, what do they posses



Posts

: 31


Join date

: 2016-11-09



Snarfian peacekeepers put on standby
Mosnarf,Snarfia
After recent news about the ongoing war between Honorias and Togana. The ministery of defence ordered an immidiate deployment of 600.000 Snarfian peacekeepers to the new oversea colony.
"Two strong nations that are both in the regional Security counsil, are at war. We may not let this go on! The military has gotten the order to immediatly deploy around 600.000 troops and equipment to the oversea colony. Our main task will be: helping civilians and refugees. But also seeking a solution for the two nations.
The president has already declared Snarfian Neutrality in the conflict but stated that if there is any reason given, the Snarfian armed forces can and will intervene.
Admin




Posts

: 38


Join date

: 2016-11-07


Age

: 20


Location

: Dancing in a hotel



Page 2 of 4 •

1, 2, 3, 4



Similar topics
---
Permissions in this forum:
You
cannot
reply to topics in this forum